Privacy Policy
The privacy and security of customers of King Billy Casino is the highest priority, that is why we serve under the rules of the Privacy Policy. The company is owned by Dama N.V. which is licensed and regulated by Antillephone N.V., and operates under the Curaçao license (no. 8048/JAZ2020-013). By this, we have a legal obligation under gambling laws to process players' personal data in order to enable them to participate in games and provide them with the best service. By creating a personal account on our service, you agree that you accept the rules of the Privacy Policy. If you do not agree with them and do not want to provide us with your personal information, please do not use the services of the website for playing for real money. Your continued use of the service will constitute your acceptance of the Privacy Policy.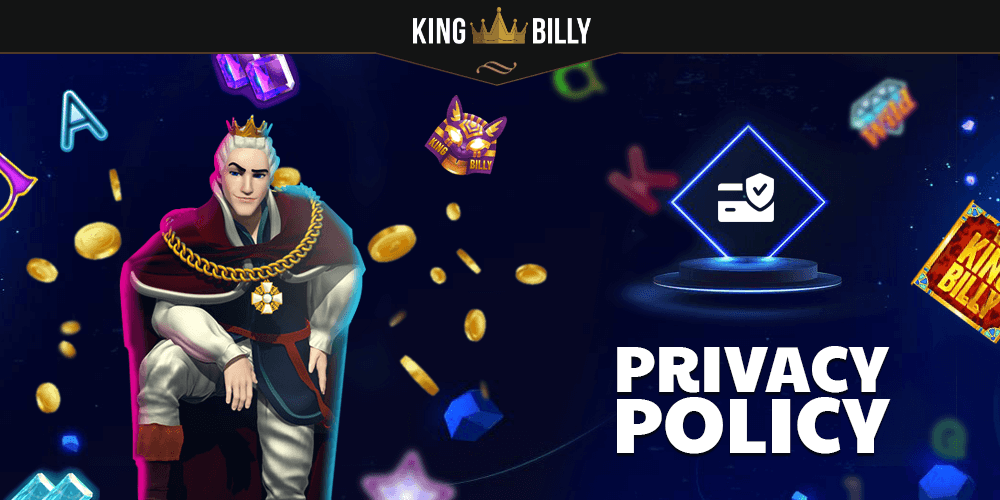 What Data We Collect
During the usage of our website, we collect, store, and process the following personal data:
The data about yourself that you fill in while registering your personal account, as well as any other data that you update later (first and last name, date of birth, email address, phone number, etc.);
The data that you send us in any message via the website, email, support service chat, or through other means of communication;
History of payments and transactions that you make in your personal account through our service;
Data about logins, including traffic, location, the configuration of the device, and other traffic data recorded in our system;
Documents and proofs required for verifying your account to process deposits or withdrawals and to conduct anti-fraud checks, such as passport scans, payment slips, bank statements, and so on;
Survey participation or any other customer assessments that we may carry out from time to time.
Usage of Personal Data
With regard to providing the best level of maintenance while delivering our services, we process and use the personal data we collect from you. It is essential for the following purposes:
Processing user's bets and transactions, along with usage of credit cards and online payment systems;
Providing and managing the best gambling and other services on our website;
Providing customer support, such as helping you to set up and manage your account;
Implementing the necessary verification checks;
Sending promotional offers and information from our business partners and affiliates to our registered users if they have given consent to this;
Follow legal obligations, including compliance with anti-money laundering and combating the financing of terrorism laws;
Detecting and preventing fraudulent and other illegal activities;
Analyzing customer preferences and trends gaining popularity through market research;
Conducting research and statistical analysis for service improvement and new product development.
So, the processing of information is necessary for providing more efficient and first-rate service.
Marketing Communication
Unless you choose not to receive promotional advertisements, we may use your personal data, including your email address and phone number, to send you marketing ads about our products, services, and promotions and our business partners. If you decide to stop receiving such marketing and promotional advertisements, you may turn it off in your personal account settings or by contacting our customer support team.
Collecting and Sharing Personal Data
It should be kept in mind that we will not collect any customers' private data without your knowledge. However, it does not include the data that you have specified while using our service or interacting with us. We may also receive certain private data from service providers and fraud prevention companies. Also, we reserve the right to employ the services of third-party providers to produce technical support, process your online transactions and source gaming content, and detect and protect us from fraudulent and illegal activities. You must be assured that we properly protect and use users' private data only for company purposes, as set out in this Privacy Policy.
Disclosing Personal Data to Third Parties
King Billy Casino does not sell or rent users' personal data to third parties.
Any provided private data can only be disclosed to third parties if we believe it to be necessary to protect the legitimate interests of the Company, its customers, or any third party. Thus, we may disclose customers' personal data only in the following cases:
If required by law, executive authorities, regulatory and supervisory authorities;
When necessary to share with payment systems to facilitate transaction procedures;
To adhere to our legal and regulatory duties and responsibilities owed under applicable legislation and jurisdiction;
When necessary to protect the player's and our safety, investigate fraud, or respond to a government request;
At the requirement of software service providers to supply their products;
To any other third party with the player's prior consent to do so.
Also, our website may have features of social media to share and like information. They are provided by third-party social media platforms and processed following their Privacy Policy.
In addition, we may also share customers' personal data if we open new businesses or merge with other companies, as well as cooperate with them. We will inform you of any changes in structure and regulations by email prior to affecting such transfer of personal data.
It should be noted that our service may also have links to third-party websites with their separate Privacy Policy laws we are not responsible for.
Keeping and Deleting Data
Both the casino and the customer have the right to close a personal account at any time. Closing your account, we will keep your personal data as long as required by law. This data can only be used if required by competent authorities in cases of inquiries regarding financial records, fraud, money laundering, or investigations into any other illegal activity.
Players can request to delete their personal data after five years from the closure of the personal account or the last transaction date. It can be done by contacting our customer support team.
Personal Data Security
By serving under strict legal provisions, we ensure the safety and protection of all provided personal data. In an effort to provide a secure service to our players, we will take all reasonable measures to ensure that all data you provide to us remains secure.
Each user may log in to his personal account with a unique ID and password. Also, there is an opportunity to set up two-factor authentication as a measure of additional protection. Your login information must be kept confidential without access to other people.
Usage of Cookies
To improve our website and your user experience, we collect data using cookies as they help us to provide the best service. We store various information about your account and automatically activate it upon your request to improve your gaming experience. To do this, we use different types of cookies, including:
Required cookies implement basic functions of the service, such as saving login and password to enter your personal account;
Functional cookies enable us to analyze your website usage and preferences (your session key, language, or region), so we can save these settings and offer you a more personalized experience;
and suggest the content you may like;
Advertising cookies allow us to do market research and check the effectiveness of advertisements.
If preferred, you are able to block or delete cookies by selecting the appropriate option in the browser settings. However, we recommend you not do this, as it may limit your use of our website.
Contact us
You can contact us regarding Privacy Policy, if you want to:
Verify the accuracy of the personal data we have collected about you;
Learn more about our use of your personal data;
Prohibit the use of your data for direct marketing purposes in the future;
Update or correct any information that you have provided to us (in such cases, you must provide any evidence that we may reasonably require in order to make such changes). Please note that it is illegal for us to provide false information about you, and it is your responsibility to ensure that we always have your valid data.
We have a Data Protection Officer who is responsible for reviewing issues related to Privacy Policy. If you have any questions about this Privacy Policy, use this email for requests: [email protected].