Responsible Gaming Principles
King Billy Casino adheres to the rules of responsible gambling, which are explained in the Privacy policy, and protects the users so that they play responsibly and enjoy our service. A responsible approach to gambling is essential, as it is easy to lose control of your emotions under the influence of the game. It is our major duty to protect our users so that they do not have any problems while gambling. For this, we have several measures to take, such as placing personal limits on gaming activity, self-exclusion, and asking for help and support from trusted bodies.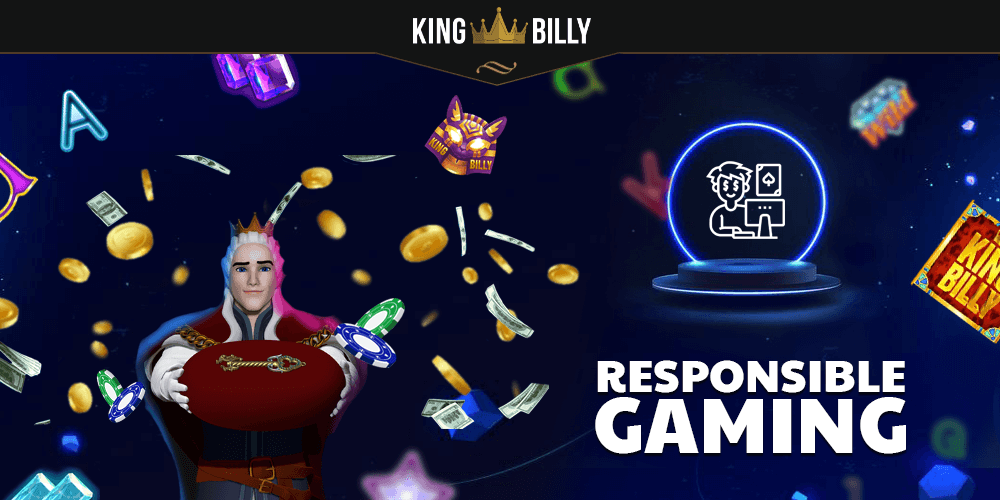 Setting Personal Limits
With regard to helping our users to play responsibly, we provide a feature for setting personal limits in the "Personal Limits" section. It can be placed on the amount you deposit, lose, bet, spend in a single game, or on your account activity in general. Among them:
Deposit limit that can be placed per day, week, or month;
Loss limit can be set up per day, week, or month, and is based on the initial deposit and not on the winnings associated with the amount deposited;
Betting limit is also placed per day, week or month;
Cooling-off limit can be set up to 1 day, 3 days, 1 week, 1 month, 3 months, or 6 months. While the limit is active, you are not able to make deposits and you will be excluded from all promotional offers, although you can withdraw the remaining funds during this period;
Self exclusion limit can be placed for 1, 3, 14 days; 1, 3, 6, 9 months; 1 or 3 years, or forever. After that, your personal account will be immediately disabled and excluded from all promotional offers for this period. If you are self-excluded from the casino, you will not be able to log into your account and request a withdrawal of any balance you have left. After self-exclusion, please contact our customer support team to make a withdrawal of the remaining balance, and it will be paid out according to the limits of the casino.
Limits can be changed at any time. The reduction of the limit will take effect immediately, while the expansion can be placed after confirmation by e-mail and only after the expiration of the previous limit of the same type, in order to avoid rash decisions. If you need further information or assistance regarding personal limits, please contact our customer support team at [email protected].
Protection of Minors
King Billy Casino only accepts players who have reached the legal age of 18, and takes all available methods into consideration to prevent any attempts of minors to register and play on our service. We reserve the right to require the verification of identity, and in case a player is under the legal age to play, access to the casino will be prohibited immediately.
However, we understand that due to the wide availability and nature of the Internet, people under the age of the majority still have the opportunity to register and play at online casinos. Therefore, we strongly encourage parents to participate in protecting their children from free access to gambling services.